For New Talent
WE GROW TOGETHER
When beauty school ends, the pressure begins—it's natural to feel overwhelmed. At Ruiz, we're here to help you bridge that gap. Our industry-leading internship program offers a structured path to nurture your talents and build your confidence behind the chair, with hands-on support every step of the way.
Each of our expert educators are trained to accommodate different learning styles, and our self-directed curriculum gives you the flexibility to follow your passions and develop your skills at your own pace. You won't be learning from video tutorials here—you'll have a supportive team that's dedicated to your succes
As a Ruiz intern, you'll have the unique opportunity to be paid for the privilege of learning, with 1 day a week dedicated to in-class education and 4 days of on-the-job training.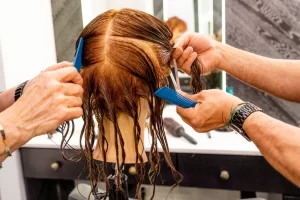 You'll start with perfecting your foundational skills: styling and finishing. As you progress, you'll take your talents out of the training room and onto the salon floor. You'll get hands-on experience completing the services you've mastered, communicating with clients and managing schedules—all with the support of our team of master stylists.
As you advance in your internship and choose a specialization, you'll have unsurpassed access to the industry's top cut & color educators. As the Global Style Director for Aveda, our co-founder Allen Ruiz sits at the highest level of creativity and artistry in the industry—and he makes it a priority to share that access with the Ruiz team. Our specialization tracks enable you to reach the floor rapidly, with the elite skills to build a highly-lucrative career. Even as an intern, you'll have access to our full catalog of continuing education programs, including quarterly "hero classes"—master classes by master stylists.
Our commitment to your career development doesn't stop after your internship. After you graduate, you'll have the opportunity to continue honing your specialization in our "Level Up Cutting" & "Level Up Color" classes. After completing this program, you'll earn a $1,500 cash bonus or credit towards an education program of your choice—another way that Ruiz Salon is committed to your continued success.
HEAR FROM OUR TEAM
Ready to launch your dream career?