For Established Stylists
REACH NEW HEIGHTS AT RUIZ
You have the experience, the ambition and the talent—and you deserve a salon home to match. You've always dreamed of reaching the next level in your career, and there's no better place than Ruiz to make it happen.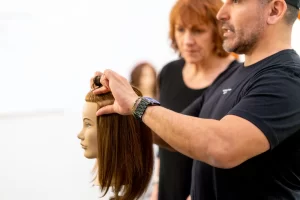 As the Global Style Director for Aveda, our co-founder Allen Ruiz delivers our team unmatched access to opportunity—from our sterling reputation in the Austin community to educational opportunities with industry superstars.
We make it a priority to support our stylists' holistic career development. You'll not only enjoy regular creative workshops in the latest techniques, but also honing your business skills with education in marketing, book-building and wealth management. We also give you the flexibility to pursue your passions and develop your artistry with credits toward outside education—the only limit is your ambition.
When you join the Ruiz team, we'll assess your experience, education and skill set to create a professional development plan that's unique to your needs and artistry. You won't have to earn your stripes—you'll hit the ground running, with support every step of the way.
Flexibility is key in our fast-paced industry, and we know life does not begin and end behind the chair. Our team enjoys an enviable work-life balance—here, you'll build books you won't have to hustle to maintain, with sustainable schedules that give you the freedom to enjoy all that Austin has to offer.
Take the next step in your career.